Preview - Pro Evolution Soccer 2015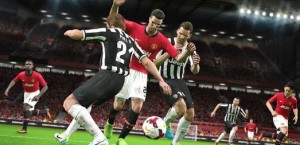 0
COMMENTS
DEVELOPER: Konami
COMPANY: Konami
PLATFORM:
Xbox
PlayStation
PC / Mac
POSTED:

@PierceJohnson
---
Ten years ago there was something called Pro Evolution Soccer, and it was the football game to end all football games. It had fantastic gameplay, great physics and fast end-to-end matches. It also had Ryan Greggs instead of Ryan Giggs, but that didn't matter.
FIFA has always had the shiny licenses, with thousands of real players as well as the leagues and stadiums to go with them. However PES was always the true game for the real football fan, those who loved loading up the new version every year and heading straight for the editing mode. The dawn of the PS3/Xbox 360 era wasn't kind to PES and that's when FIFA caught up to offer a better all round title. Yet after all these years of finishing second, PES is showing signs of lifting the cup once again.
First impressions: It's fast. Very fast. You can get from one end of the pitch to the other pretty quickly if you're holding the sprint button, and it just feels like a very fluid and enjoyable experience. Those after the more 'realistic' simulation of FIFA might be turned off here, but if you hark back to the days when football games were more about being games than imitations of the real thing then you'll find plenty to shout about here.
Shooting is probably the main feature in any football game, a mechanic that can make or break a year's worth of development, so you'll be happy to read that it's exceptionally tight. I saw a range of different types of goals - tap-ins and long-range strikes - to make me confident enough in the diversity of the shooting. Taking those 30-yard shots was also fun, even if the goalkeepers were capable of stopping mine with little difficulty.
One of the standout aspects was the way through-balls can be weighted to perfection so that your strikers can run onto them and head onto goal. Picking the perfect pass which takes two defenders out of the game can be done once you master the through-ball and the lofted through-ball, so you'll want to get to grips with this as soon as possible. Everything just seems so responsive, and it's hard not to think back to the glory days of PES 5 or PES 6.
Moving away from the pitch there are a few new additions to the online features. That includes a new Online Divisions mode, where you play ten games with your friends and you can move up and down the league system by finishing in the first or last couple of places. Interestingly there's also a My Club mode, which is a team-building game where you use agents to get the best players. You'll also be able to collect managers and they'll have preferred tactics and systems to use on your team.
As for the old favourite, Master League is of course making a return and it'll be packed with more things to do than ever. That also means a new, more realistic transfer system and the ability to part-exchange players. The makers of PES 2015 are hoping players will see real depth and key improvements for Master League that'll have them coming back for more.
There are definitely signs that PES 2015 is going to be a return to form. You won't get pretty menus, a decent soundtrack, good commentary or thousands of licensed teams and players, but you will get a genuinely entertaining game of football every single time. The series might never again reach the heights of a decade ago, but that's not going to stop it from trying.