New DLC coming to Modern Warfare 3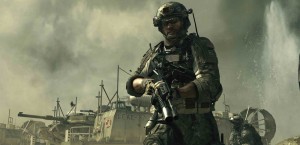 0
COMMENTS
DEVELOPER: Infinity Ward
COMPANY: Activision
PLATFORM:
Xbox
PlayStation
PC / Mac
POSTED:

@PierceJohnson
---
The next Call of Duty: Modern Warfare 3 DLC will be available from 17 July for Xbox 360 players.
The new content includes new maps Decommission and Offshore as well as the Vertigo mission for Spec Ops.
The Terminal map from Modern Warfare 2 will also be downloadable for Call of Duty: Elite subscribers, while regular Xbox 360 players can get their hands on it a day later.
Decommission is set in a ship graveyard while Offshore is a close-quarters map taking place on an oil rig.
The vertigo mission will have you trying to take down enemy helicopters from the rooftop of a hotel in Dubai.
PlayStation 3 owners will have to wait at least a month for the DLC due to the exclusivity deal between Activision and Microsoft.