Gears of War: Judgement won't support Kinect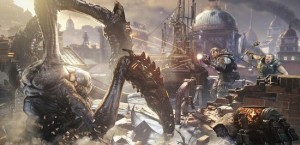 0
COMMENTS
DEVELOPER: Epic Games
COMPANY: Microsoft
POSTED:

@PierceJohnson
---
The newest Gears of War title won't have Kinect support.
In April, rumoured Kinect title Gears of War: Exile was scrapped.
When asked whether Judgement would include any of the features from Exile, design director Cliff Bleszinski told Games TM: "There are not a lot of things that wound up in there. There's one thing actually that you reminded me of though, is that we are not supporting Kinect in Gears Judgement.
"I like Kinect, I've been a fan of it, but I don't think it has been fully realised as far as the potential of the device.
"Dance Central 3 looks great and all, but I'm curious how the 'core' games will work out."
It was also revealed that Gears of War 3 writer Karen Traviss will not be working on Judgement.
Two authors will take her place; Tom Bissell, writer of Extra Lives: Why Video Games Matter, and Rob Auten, who worked as a consultant for 20th Century Fox.
Gears of War: Judgement is rumoured to have a February 2013 release date.