Metro 2033 to be made into film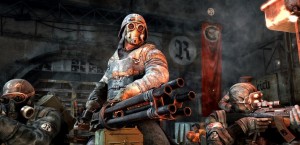 0
COMMENTS
DEVELOPER: 4A Games
COMPANY: THQ
PLATFORM:
Xbox
PlayStation
PC / Mac
POSTED:

@MTamerA
---
Variety has reported that there will be a film version of Metro 2033.
The hugely popular FPS game is based on a novel which sees young man surviving he horrors of WWIII by hiding in Moscow's subway system.
The author, Dmitry Glukhovesky, has said he's excited to see his books finally being made into a film, although he said he had been reticent to hand his IP over before.
"I have previously been extremely careful about handing my 'baby' over to Hollywood producers for adaptation for a feature film, but now I feel that it has landed in the right hands. De Luca and L'Heureux have a great vision for this project, and I feel it's an honour to work with them."
"My novel and I have been waiting for this to happen for the last 10 years," said Glukhovsky.
We're looking forward to seeing if this project gets off the ground. Many video game movies haven't made it to the light of day, however, as this is based on the novels, I think there might be a good chance we'll see it.