Beyond: Two Souls announcement details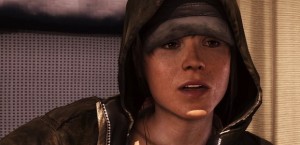 0
COMMENTS
DEVELOPER: Quantic Dream
COMPANY: Sony
POSTED:

@PierceJohnson
---
Sony excited audiences at E3 when it announced news of supernatural game, Beyond: Two Souls.
The PS3 exclusive will be the latest game from Quantic Dream, the developer behind 2010's Heavy Rain.
Beyond: Two Souls will follow the story of Jodie Marsh, played by Canadian actress and academy award nominee Ellen Page.
The game will cover 15 years of Jodie's life as she is followed by ghostly partner, Eiden.
Jodie and Eiden will both be controllable in the game leading to different playable possibilities for players, such as Jodie using Eiden's supernatural powers to escape from police.
For example, Eiden will be able to move objects and explore each environment as long as he doesn't float too far from Jodie.
He will also be able to take control of another person's body to cause distractions, enabling Jodie to bypass anyone who could be after her.
A similar story structure to Heavy Rain will be in place, allowing players to make decisions and moral choices which will have an effect on the outcome of the game and its story arc.
There is currently no release date. Check back for more info soon.