Batman may have more than the Batmobile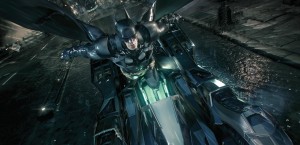 0
COMMENTS
DEVELOPER: Rocksteady
COMPANY: Warner Bros.
PLATFORM:
Xbox
PlayStation
PC / Mac
POSTED:

@MTamerA
---
Social marketing manager at Rocksteady Games, Gaz Deaves refused to comment on whether or not there would be vehicles other than the Batmobile in upcoming Arkham Knight game.
"The only vehicle we're talking about right now is the Batmobile."
Batman has returned to Rocksteady after Warner Bros. Montreal studio developed the last title in the series, Arkham Origins.
Deaves said that the game is five times bigger than the previous game and that there would be lots to do in terms of side quests.
Asked if the player would have enough to do, Deaves said there were "new moves and new thug types," and that there were now "environmental takedowns" which allow the player to use the environment to eliminate enemies.
"Batman is always looking to improve his load out, make him better at dealing with thugs. One of the things we've introduced this time around is gadgets while gliding, so you're able to throw batarangs even before you get into combat," said Deaves.
"We always want the player to feel like Batman, the central philosophy that we've always we've had with our Batman games is as soon as you pick up the controller you need to feel you are the Dark Knight. And Batman has options, Batman can approach situations in all kinds of different ways and deal with threats in the way he wants."
Batman: Arkham Knight is due to be released in 2015 and will be available on PS4, Xbox One and PC. Stay tuned for more news, we'll have the full interview up soon.