Assassin's Creed producer would love to make an MMO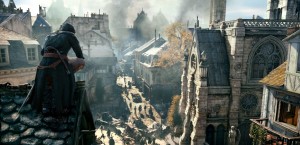 1
COMMENTS
DEVELOPER: Ubisoft
COMPANY: Ubisoft
PLATFORM:
Xbox
PlayStation
PC / Mac
POSTED:

@PierceJohnson
---
Assassin's Creed Unity lead producer Vincent Pontibrand says it would be a "dream" to create an MMO based around the franchise's different storylines.
There have been six console instalments in the Assassin's Creed series since its debut in 2007, while Unity is coming this year for new-gen and Rogue is heading to last-gen.
Of those games there have been several different settings and multiple lead characters, and Pontibrand said revisiting those past creations would be on his wish list.
"I'd love to have time personally, but it's not there!" Pontibrand told ArabicGamers when asked about going back to old storylines.
"My dream would be to build basically an MMO where we can just revisit all these storylines through the same avatar, that would be awesome! But it's not the game we're making."
Unity will also mark the debut of cooperative multiplayer in Assassin's Creed, and Pontibrand said it was the "first step" to having an online version of the franchise.
"For us this is the first step with having an online version of Assassin's Creed," he added.
"We haven't gone as far as we want, you cannot share the world with other groups of people. When you're online with three other friends you're just the four of you in your session of Paris. Other players might be playing at the same time, so one of your friends could drop out and one of your other friends could join you and we have joining progress and stuff like that."
In early 2012 Ubisoft Quebec were looking to hire staff for a 'AAA MMO' to start "creating a compelling long-term player experience from the ground up, responsible for building and populating a large world."
It would make sense, the AC franchise could easily translate to an MMO.
Assassin's Creed Unity launches later this year and we'll have plenty more coverage, including a video interview with Pontibrand, over the coming weeks.