Splinter Cell: Blacklist trailer, screens and details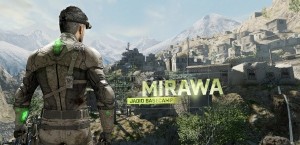 0
COMMENTS
DEVELOPER: Ubisoft
COMPANY: Ubisoft
PLATFORM:
Xbox
PlayStation
PC / Mac
POSTED:

@MTamerA
---
Ubisoft has announced it will be releasing a new Splinter Cell game early next year.
The game is the next instalment in the Tom Clancy Splinter Cell world and sees the return of hard man Sam Fisher who is heading up the 4th Echelon, a covert unit directly commanded by the United States president.
The idea is for Sam and his team to take down the other black operatives operating as mercenaries in the name of the US government all around the globe.
There's more in the trailer, which you can see below. But we do apologise in advance for the terrible Arabic voice acting. We're going to talk to Ubisoft about that and make sure their next Arabic voice over artists are actually decent enough.
Although, it's not such a bad thing. The accents are so bad you can pretend the baddies are of any other nationality with a bad accent in Arabic!
Here are new screens and a trailer for your viewing pleasure...