Criterion Games to re-invent Need for Speed: Most Wanted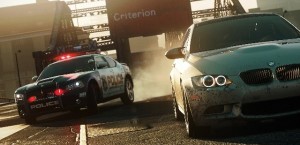 0
COMMENTS
DEVELOPER: Criterion Games
COMPANY: EA
PLATFORM:
Xbox
PlayStation
PC / Mac
POSTED:

@PierceJohnson
---
Need for Speed: Most Wanted is coming back and EA has announced that Criterion Games will be reimagining the franchise fan favourite.
Players will now have the freedom of an open world environment to explore so that they can choose their own path to becoming the Most Wanted. Taking down rivals, discovering hidden game play and challenging friends will all be part of the new game.
One of the biggest features of the series is the social networking Autolog technology. This offers friends the chance to fight for bragging rights as they compete against each other for best race times and highest scores.
Autolog will also recommend challenges for players to help them refine their racing skills to stay one step ahead of the competition.
Check out the latest screenshots and videos from E3 below.
Need for Speed: Most Wanted will be available from 30 October, 2012 on PS3, Xbox 360 and PC.