Sniper Elite dev Rebellion happy with new consoles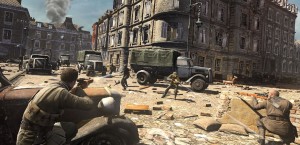 0
COMMENTS
DEVELOPER: Rebellion
COMPANY: 505 Games
PLATFORM:
Xbox
PlayStation
PC / Mac
POSTED:

@PierceJohnson
---
Sniper Elite studio Rebellion is happy with the new consoles and will be able to push its games further as it gets used to the technology.
That's according to lead designer Michael How, who is pleased about upcoming Sniper Elite 3 achieving 1080p on both the PS4 and Xbox One.
How told ArabicGamers that it was a learning process that would only serve to benefit future IP.
"Given our familiarity with the architecture and being able to deliver a really streamlined experience in 1080p for both PS4 and Xbox One, we've kind of learnt a lot from developing through those, and I think now it's only a matter of taking that hardware even further," he said.
"We've got these AI limits that dramatically increase from Sniper Elite V2 to 3, I think from around eight to 30 plus now. Even when we were designing the environments we were learning how to keep that amount of AI and how to keep pressure on the player.
"I guess these are lessons we learnt in Sniper Elite 3 that will only benefit us when creating future games. We'll be able to take the DNA and all these expansive environments and be able to push other IPs further."
Sniper Elite launches at the end of the month and you can click here to read our hands-on preview.