PS Vita Assassin's Creed exclusive confirmed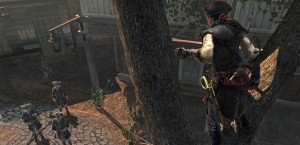 0
COMMENTS
DEVELOPER: Ubisoft
COMPANY: Ubisoft
PLATFORM:
PlayStation
Mobile
POSTED:

@MTamerA
---
A PS Vita Assassin's Creed exclusive has been announced by Ubisoft and will be an off-shoot of the main franchise and will focus on the events leading up to Assassin's Creed 3.
The game, Assassin's Creed 3: Liberation, will see you playing Aveline, a female protagonist who finds herself fighting the Spanish forces in Louisiana. The game is set in 1765 and will see you play all the events leading up to the American Revolution.
The game will take place primarily in New Orleans and will feature a similar open-world sandbox for you to explore and play in. The game will take advantage of the touchscreen and camera functionality of the PS Vita and you'll be able to "cross goods" with content on your PS3. What exactly "cross goods" means could be anything from weapons to information and backstory content.
Having said that, if you play the Vita version, you'll unlock exclusive content such as a unique multiplayer character and weapon upgrades in Assassin's Creed 3.
The game will be available for release on the same day as Assassin's Creed 3 and you can even get it bundled with the new Crystal White PS Vita if you're in the States. No confirmation of this bundle in Europe, but both games will be available for purchase 30 October this year.
Oh, and the trailer… You can see it below.