Crazy Taxi makes its free-to-play debut soon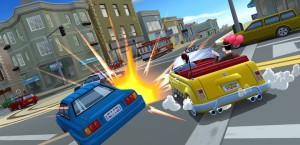 0
COMMENTS
COMPANY: SEGA
PLATFORM:
Mobile
Free to Play
POSTED:

@PierceJohnson
---
Sega has confirmed that Crazy Taxi: City Rush will be making its free-to-play debut on mobile devices.
The game follows the classic formula of having to pick up and drop off passengers as fast as possible in timed missions.
Doing well in a mission earns you bonus time and points so that you can extend your run.
There have been some mobile-specific controls added, so you can swipe to the left or right to switch lanes or swipe downwards to perform a u-turn.
You can also upgrade your cabs and there are other drivers to unlock.
Crazy Taxi: City Rush will hit iOS and Android later this year.