inFamous: Second Son video has 8 minutes of gameplay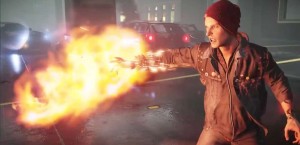 0
COMMENTS
DEVELOPER: Sucker Punch Studios
COMPANY: Sony
POSTED:

@PierceJohnson
---
Sony has released an inFamous: Second Son video showing off eight minutes of gameplay.
Throughout the game players will face moral choices and choose whether to do the good or bad thing.
This footage is of the player attempting an 'evil mission', and you can see how it all unfolds below.
inFamous: Second Son looks like being the highest profile PlayStation 4 game to date, with pre-orders outpacing The Last of Us at the same point in that game's run-up to launch.
inFamous: Second Son will be available on 21 March.