5 terrible games that shouldn't have been released in 2013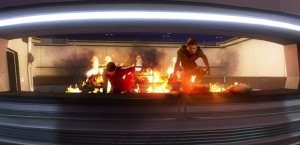 0
COMMENTS
DEVELOPER: Digital Extremes
COMPANY: Namco Bandai
PLATFORM:
Xbox
PlayStation
PC / Mac
POSTED:

@PierceJohnson
---
We've all seen the lists celebrating the best that gaming has to offer in 2013, including the likes of Grand Theft Auto 5, BioShock Infinite, The Last of Us, etc. Those are incredible games, but it's also worth looking back on a year that brought us plenty of dire titles as well. Here are five terrible games that definitely shouldn't have been released last year due to being, well, terrible!
The Walking Dead: Survival Instinct
Telltale's vision of The Walking Dead is one of the best gaming experiences of the last few years. Developer Terminal Reality's vision is a much different one, filled with woeful first-person gameplay that contradicts the beloved TV series' focus on keeping out of sight to survive. How it got the green light we'll never know.
Star Trek
Videogame/movie tie-ins should always be approached with caution, but we still weren't prepared for how dull Star Trek turned out to be. Trekky fans might be able to squeeze some fun out of it, but for everyone else this was a rushed, glitchy mess.
Ashes Cricket 2013
Ashes Cricket 2013 remains unique in that even the publisher thought it was terrible. 505 Games pulled the PC game from sale after a massive backlash and issued refunds to everyone who bought it. Luckily the Xbox 360, PlayStation 3 and Wii U versions never saw the light of day.
Aliens: Colonial Marines
Coming from the makers of the wonderful Borderlands, this promised so much more. It was still enjoyable in some areas - check our review for more - but Colonial Marines just didn't deliver live up to expectations. It did provide some YouTube-worthy glitch compilations, though.
Fighter Within
Xbox One's Kinect technology offers a lot of potential for good. It also offers a lot of potential for bad, and Fighter Within is a shining example of what can happen when a decent idea is executed poorly. Punching and kicking doesn't work when you want it to and so what you're left with is a mess of a game that shouldn't have made it through the planning stages.