Mass Effect 4 gets teaser images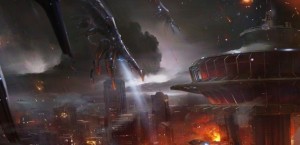 0
COMMENTS
DEVELOPER: BioWare
COMPANY: EA
PLATFORM:
Xbox
PlayStation
PC / Mac
POSTED:

@PierceJohnson
---
BioWare has released several images teasing the next installment in the Mass Effect series.
The team at BioWare Montreal was celebrating N7 Day - the anniversary of the first game's release date - by posting pictures of developers working on the franchise.
Later on a number of images of people working on Mass Effect 4 were released, and if you squint hard enough you can make out some characters and locations.
Check out the images below.
It's previously been confirmed that Mass Effect 4 will use the Frostbite 3 technology used to power Battlefield 4.