Square Enix confirms Hitman: Absolution for 20 November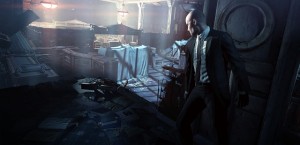 2
COMMENTS
DEVELOPER: IO Interactive
COMPANY: Square Enix
PLATFORM:
Xbox
PlayStation
PC / Mac
POSTED:

@MTamerA
---
Sqaure Enix has said that highly anticipated Hitman: Absolution will be released on 20 November this year.
The game is the sequel to Blood Money and sees the return of Agent 47, the star of the series. He's taken on the biggest contract to date and he's been betrayed by those he trusted and the police, according to Square Enix.
"For the first time we are taking Agent 47 on a personal journey which allows us to explore other parts of the HITMAN fantasy, " said Tore Blystad, game director, IO Interactive.
In addition there is a pre-order initiative with Hitman: Sniper Challenge which is an "exclusive standalone pre-order sniper experience" for customers who preorder the game from 15 May. It's been created purely for those who pre-order and won't be downloadable otherwise.
Agent 47 will have access to a high-powered Kazo TRG sniper rifle and will be able to unlock further content for the game. You'll also have access to an online sniper leader-board which will pit you against other players and offer sniping challenges.
"Agent 47 is the best in the business so it seemed appropriate to create the best pre-order reward possible for our fans," said Jon Brooke, brand director.
"HITMAN: SNIPER CHALLENGE is a way of thanking customers and giving them a taste of Agent 47's skills from the moment they pre-order the game."
"This is both a familiar and yet significantly different experience to any of the other Hitman games, something our silent assassins will relish as well as those who are new to the Hitman world," said Blystad.
The game will be showcased at E3 this year, we're hoping to get some hands on soon. We'll keep you posted, but we're excited to see how this game has developed with the times and after such a successful title as Blood Money.