Fable Anniversary delayed to February 2014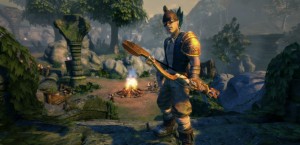 0
COMMENTS
DEVELOPER: Lionhead Studios
COMPANY: Microsoft
POSTED:

@PierceJohnson
---
Lionhead has confirmed that Fable Anniversary will be pushed back to a release date of February 2014.
It was originally intended to launch at the end of this year, however Lionhead claims that more time is needed to deliver the best experience possible.
"We've been working hard for the past year to bring you the very best Fable Anniversary experience on Xbox 360," said lead designer Ted Timmins.
"We feel though, that we need a little more time in order to meet our ambitions and give you, the fans, the best game possible.
"It's not easy making these decisions and I know that us asking you to wait a little longer whilst we get to play test the game every day is downright unfair, so over the next few weeks we're going to be sharing with you more screenshots, more game footage and perhaps some... top secret announcements!"
Fable Anniversary is a remake of the original Fable.