Deus Ex: Human Revolution Ultimate Edition released on Mac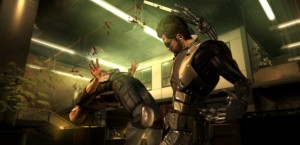 0
COMMENTS
DEVELOPER: Eidos Montreal
COMPANY: Square Enix
POSTED:

@MTamerA
---
One of our favourite games of last year, Deus Ex: Human Revolution has been released on Mac.
The game, ported by Feral Interactive, will contain the full game, the Explosive Mission and Tactical Enhancement packs as well as The Missing Link DLC. Gamers can also expect to get a 40-page book of concept art and a bonus Making-Of documentary, a motion comic and the soundtrack amongst other things.
So, minimum spec I hear you saying? Check below.
Minimum system requirements call for a 2.0GHz Intel Mac with at least 2.0GB RAM, 256 MB or better graphics card, and Mac OS X 10.6.8 or later. The game does not support the following graphics cards: ATI X1xxx series, NVIDIA 9400, NVIDIA 7xxx series and Intel GMA series. The following cards require you to have 4GB of System RAM: NVIDIA 320M, Intel HD 3000.