Microsoft can outdo Sony with Xbox reveal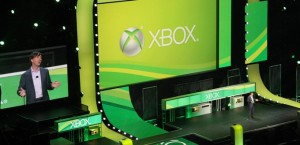 3
COMMENTS
COMPANY: Microsoft
POSTED:

@PierceJohnson
---
Is Microsoft serious about games or is it turning the next Xbox into a fully-fledged entertainment machine? Will it have to be constantly connected to the internet to work properly? Can I play my old Xbox 360 games on it? What about used games, will they still work or are they being blocked completely? These are just a few of the questions Microsoft needs to answer during the next Xbox reveal in May. Failure to clarify these points would spell trouble for the platform holder, but Microsoft also has the chance to outshine Sony's PlayStation 4 event from February.
A fair bit was revealed back then, including the main, juicy details. This includes hardware specifications, a new controller design and several launch titles, which meant that most people went home satisfied and could look forward to what the next-generation would bring. However there are still a few questions remaining, and while some could point to Sony deliberately holding back to leave the audience begging for more, they can't argue that Microsoft can blow its rival's event out of the water if all goes well.
First off, some specific details would be nice. If it's going to launch this year, announce the date. Don't just put out a "Holiday 2013" slogan at the end of your conference for executives to hide behind. Tell us exactly when we can expect the next Xbox to hit stores and in what regions, this would clear up a lot of confusion and allow gamers to start counting down to when the next-generation officially begins. Not only this, but a price tag would also be very welcome. Simply confirming these two details would go a long way to putting Microsoft in the driver's seat.
The most important issue, of course, is the controversial speculation surrounding whether the next Xbox will require an always-online internet connection. There are many arguments for and against always-online (although I'd argue that most of the good ones fall into the 'against' category), but none of them really matter until we learn how Microsoft intends to implement it. Does it mean that our games will stop working if our internet connections suddenly go down? Will I even be able to start the console if I can't connect to WiFi? These are vitally important points that need to be addressed. Who knows, maybe Microsoft has a cool plan up its sleeve, but we really need to find out sooner rather than later.
We also need to know if games are going to be the main focus for the next Xbox, or if there are ideas to branch out even further into entertainment apps and become a device for the living room rather than the bedroom. This will be a deal breaker for many gamers who believe Microsoft isn't putting enough focus onto actual games and is hoping players will want to stream hours of TV and movies through it instead.
Launch games also need to be shown off, and they need to be impressive. Personally I think this is where Microsoft can really gain the upper hand and deal the biggest blow to Sony. There isn't much to compete against in this respect - another Killzone, a racing title that isn't Gran Turismo - so some top exclusives would get gamers hungry in anticipation of what's to come. Details of how important the Kinect will be and information about Xbox Live subscriptions and whether they'll still play a part next-gen would also be handy.
The big reveal next month will be an extremely important event which sets the ball rolling and many gamers will already start to pick sides and choose which console they want to buy, if they haven't already. Microsoft has an incredible chance to seize the initiative and present its ideas for the future, but there's also the risk that the whole thing could be massively underwhelming and shrouded in vagueness and secrecy. Whatever happens, you can be sure that the world will be watching.