Call of Juarez Gunslinger digital dated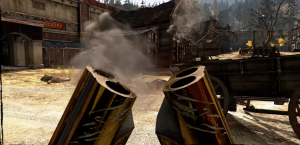 0
COMMENTS
DEVELOPER: Techland
COMPANY: Ubisoft
PLATFORM:
Xbox
PlayStation
PC / Mac
POSTED:

@MTamerA
---
Ubisoft has announced that Call of Juarez Gunslinger will be available for download on 22 May.
The game, set in the Wild West, is the story of a bounty hunter (much like Django) who is tasked with hunting down the bad outlaws of the West. You can expect to meet some famous names such as Jesse James and Butch Cassidy, however this is not to be mistaken as an excuse for a history lesson… It's certainly not accurate, but fun nonetheless.
The title will be available on Xbox LIVE and Windows for 1200 Microsoft Points and the PlayStation Network – the price has not been disclosed, but will be around the same (around $15 USD).
PC digital preoders will give you full access to the Call of Juarez: Bound in Blood, the second title of the series.
For those preodering on Uplay, Ubisoft's own server network, you can expect to have access to an exclusive legendary weapons pack.
The trailer has just been released, so check it out below.