Sniper Elite V2 heading to Wii U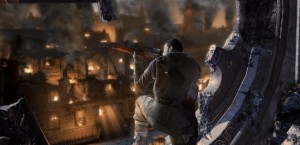 0
COMMENTS
DEVELOPER: Rebellion
COMPANY: 505 Games
POSTED:

@PierceJohnson
---
505 Games has announced that Sniper Elite V2 will be arriving on the Wii U in spring 2013.
It launched last year for the PC, Xbox 360 and PlayStation 3, but now Wii U owners will get to experience the World War 2 stealth shooter.
Unfortunately players won't be able to use the Wii U GamePad to aim through the scope; instead it will be used for tagging enemies and booby traps.
"Sniper Elite is just the kind of mature game that is perfect for the different mechanics of the Wii U," said Rebellion boss Jason Kingsley.
"It's been a challenge to get it right, but thanks to our team and the fantastic support of our partners at 505 Games we believe we've brought the unique gameplay to a whole new platform."
Those that are unfamiliar with Sniper Elite V2 can check out our gameplay video, where we play through the first ten minutes.