Latest Max Payne 3 DLC detailed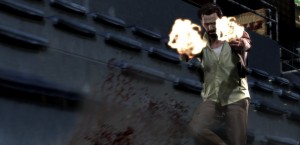 0
COMMENTS
DEVELOPER: Rockstar
COMPANY: Take-Two Interactive
PLATFORM:
Xbox
PlayStation
PC / Mac
POSTED:

@PierceJohnson
---
RockStar Games has released details for the Deathmatch Made in Heaven downloadable content for Max Payne 3.
It's set to feature four new multiplayer modes: Dead Men Walking, Run and Stun, Marked Man and Time Attack.
Dead Men Walking is a two-player co-op mode that sees you and a partner take on waves of enemies.
Run and Stun features one player taking control of Saci, who has to kill players on the map to 'turn' them to his side.
Marked Man rewards players with more XP for getting Vendetta victories.
And finally Time Attack allows players gain more points by stringing together enemy kills in a short amount of time.
Deatchmatch Made in Heaven will launch on Xbox 360 and PC today, while PlayStation 3 owners will have to wait until 30 January.
It will be available for 800 Microsoft points or $9.99 USD.