BioWare 'all hands on deck' for Mass Effect 3 DLC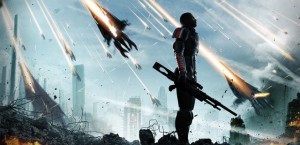 0
COMMENTS
DEVELOPER: BioWare
COMPANY: EA
PLATFORM:
Xbox
PlayStation
PC / Mac
POSTED:

@PierceJohnson
---
BioWare is claiming that 'all hands are on deck' for the next Mass Effect 3 downloadable content.
The untitled expansion is being worked on at BioWare Edmonton, with an eight-person writing team taking care of things.
BioWare designer, Jos Hendricks, confirmed the large amount of writers on the BioWare forum.
"It's all hands on deck for this one," he wrote. "Pretty much every Mass Effect 3 DLC writer here in Edmonton in involved. If my math skills are correct [that means] eight."
The chief composer of Mass Effect 3, Sam Hulick, has also spoken about his involvement in the game.
"What I'm up to lately: working on an unannounced Mass Effect 3 DLC!" Hulick wrote on Twitter. "More details on this coming later on.
"Tossing in piano and muted strings for this one particular piece. High potential for tears."
Files found inside existing DLC packs seem to hint at the next content being focused on the Citadel.