Borderlands 2 DLC out now, launch trailer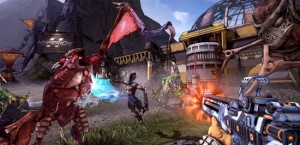 0
COMMENTS
DEVELOPER: Gearbox Software
COMPANY: 2K Games
PLATFORM:
Xbox
PlayStation
PC / Mac
POSTED:

@PierceJohnson
---
Gearbox Software has released a trailer for the newly launched Mr. Torgue's Campaign of Carnage downloadable content.
The video shows Mr. Torgue challenging players to test their skills in the Campaign of Carnage, with new areas, weapons and quests.
Check it out below.
The DLC is available to download for Xbox 360, PlayStation 3 and PC now. Those with the Borderlands 2 Season Pass should receive the DLC for free.