First PlayStation All-Stars Battle Royale DLC detailed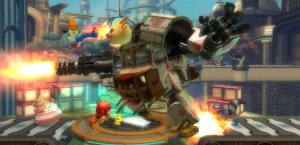 0
COMMENTS
DEVELOPER: Superbot Entertainment
COMPANY: Sony
PLATFORM:
PlayStation
Mobile
POSTED:

@PierceJohnson
---
Sony has released information of the first downloadable content for PlayStation All-Stars Battle Royale, including two new characters.
The playable characters include Kat from Gravity Rush and Emmett Graves from Starhawk.
The characters will be free to download during the first two weeks of their release.
"These DLC All-Stars still have a long way to go before they're ready to be shown off," said lead game designer Seth Killian on the PS Blog.
"In addition to the signature weapons you'll remember from his duels with the Outcasts of Dust, Emmett's playstyle will also utilise Starhawk's unique 'Build-in-Battle' system, calling down help from the sky.
"Kat's approach turns gravity on its head with some mind-bending new ways to move as she positions herself for her unique brand of aerial assault. Together, they make up one of the most original duos in All-Stars."
PlayStation All-Stars Battle Royale will launch 20 November on the PlayStation 3 and PlayStation Vita.