Borderlands 2 gets pirate-themed DLC next week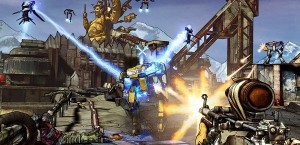 0
COMMENTS
DEVELOPER: Gearbox Software
COMPANY: 2K Games
PLATFORM:
Xbox
PlayStation
PC / Mac
POSTED:

@PierceJohnson
---
Gearbox Software has announced Borderlands 2 will be receiving its first batch of downloadable content on 16 October.
Details of the add-on, titled Captain Scarlett and Her Pirate's Booty, were leaked yesterday.
Now the developer has confirmed it will launch next Tuesday, priced at 800 Microsoft Points or $9.99 USD.
"You can sense the pirate theme across the landscape, even though there's no water," said Gearbox boss Randy Pitchford.
"It's all dried up. It feels more like Tatooine than an ocean.
"These bandits have really embraced the pirate lifestyle, and there's the legend of a treasure. That kicks off this whole adventure that the players can go on."
Captain Scarlett is the first of four DLC packs to be released for Borderlands 2.