How World of Tanks and Wargaming are taking over the world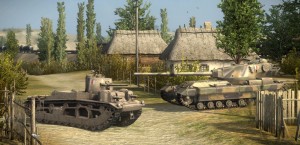 0
COMMENTS
DEVELOPER: Wargaming
PLATFORM:
Xbox
Mobile
PC / Mac
Free to Play
POSTED:

@PierceJohnson
---
Answering questions in a stylish purple shirt and black trousers, Romain Mardot appears very comfortable with life. And why wouldn't he be? He's the lead producer for World of Tanks, a game that has enjoyed remarkable success since first launching in Russia back in 2010. It continues to make a spectacular amount of money despite being a free-to-play game that doesn't require you to pay a thing to enjoy the action, and there are no signs of slowing down.
The PC version has over 75 million subscribers. That's a hell of a lot for a slow-paced, methodical shooter that isn't always easy on newcomers. There's also a new study claiming players in World of Tanks spend more money per person than in any other free-to-play title. Last year revenue from microtransactions even surpassed that of the behemoth that is World of Warcraft, earning $372 million USD and placing it fourth on the list for highest online game revenues. The record for online concurrent players in World of Tanks is 1.1 million at the time of writing. It's safe to say it's a pretty big deal.
Just what sets World of Tanks apart from its rivals in the free-to-play space? There are hundreds of games out there for you to try for free, so why do players consistently choose this one? Mardot is self-assured in his answer: it's all about fairness and giving everyone an even playing field, whether you want to spend money in the game or not.
"I think that World of Tanks is revolutionary in terms of the fairness that we're bringing," he told us during an interview about World of Tanks and its growth. "The game really is free-to-play. There really is not much that the player is not paying for that is blocked from use. Some of the premium tanks provide paying players an advantage, but if you are a fan of first-person shooters and the Second World War, you can try the game for free and you don't have to pay any money if you don't want to. "
If fairness is one key factor, bringing out consistant updates that freshen things up is surely another. The latest 6GB download for the PC version will radically enhance the visuals for tanks, battle arenas and in-game objects, add a new game mode and more. Did we mention it's all for free?
"The progress in World of Tanks never stops," Mardot added. "We have to follow the technologies to make sure players get the best possible experience when they play our game. This is why we're adding new elements that make the game more immersive and will continue to do so.
"We have one of the shortest update cycles of any game. Basically we have big plans for this year, with new tanks, new game modes, historical battles. Then we will change the game physics, so that building construction and all other elements are being impacted by the explosions. So when there's a big explosion it will not only be blowing up the tank itself, but also the surrounding area."
It's safe to say there haven't been many rainy days for developer Wargaming and the World of Tanks franchise. If anything it only seems to be getting bigger, with more and more players signing up for free every day. But is there an end, or a limit to how much it can grow? What happens when you've added every tank that was ever built, or pushed the visuals to their limits? Will interest start to decline?
Mardot has no such worries, believing that survival in the free-to-play market is all about adapting and rolling with the times. If players want to see something different in World of Tanks, Wargaming will give it to them. "I think using other examples of games that have become very popular and stayed popular over the years, World of Tanks follows those examples," he claims.
"The game is really unique in terms of the experience and all the changes we have planned. It will continue to change and be much different in five years time."
The unwavering success of the PC version hasn't halted Wargaming's plans for platform domination, and it's already started to arrive on different hardware. This February an Xbox 360 edition launched - a stripped down form of what you'll find on the PC. It's not a simple port and the developers are taking it very seriously, reworking everything to make it console friendly. Adapting World of Tanks from a keyboard experience to the controller is no easy task but it's been handled well, and while it isn't anywhere near as deep as its PC cousin it works, and it works very well, as you can find out in our initial verdict.
Not only that, but it will continue to grow just like the PC version, and the first big content update has just been made available. If Xbox players were growing tired of things they've just been given five new tanks, a new map and a crew system mechanic to mull over, adding an extra layer of depth to gameplay. The console version might not be Wargaming's number one priority, but it's going to get a lot of love throughout the years nonetheless.
You might think that as the Xbox 360 has World of Tanks, the PlayStation 3 will surely follow suit. Unfortunately it's not quite so simple. Mardot said Sony's console has a slightly different infrastructure so things would have to be done a little bit differently. "For the Xbox it's similar to PC so we didn't have to change everything from scratch. We'd have to do that for the PS3. I know the infrastructure for the PS4 is totally different again so it might be easier. For the moment we are really focusing to make sure the Xbox version becomes the best it can be." So there's no other console plans for now, but things can change very quickly in this industry.
Moving away from consoles there's also World of Tanks Blitz coming to smartphones and tablets. It's in closed beta right now and it's the most basic version of the franchise you can get. Blitz allows you to control your war machines with just your thumbs and there'll be 7 vs. 7 PvP battles. It's intuitive, it looks good and above all it's fun. Mardot acknowledges it could be harder for World of Tanks to stand out in the mobile market, but he's still confident of success.
"I do agree that the iOS market, or mobile markets in general, have a big number of competitors that are offering high quality free-to-play products," he muses. "However one of the differences between us and the rest is that we will be the first to offer such an experience. And it's linked to the Wargaming universe."
That Wargaming universe means players can use one account across all the company's titles, making things much easier when it comes to trying out new products. Blitz will follow the free-to-play model like all the others and now that Wargaming has the resources to make a mobile version, it's likely they've discovered yet another seemingly endless revenue stream.
There are other targets, too. World of Warplanes is in beta, bringing the battle to the skies above. World of Warships is planned for later on, allowing players to command massive battleships on the seas. There's even a card game in the works called World of Tanks Generals that'll work in any internet browser. It's clear that ambition knows no bounds for the company that now employs over 2800 people and with offices from Belarus to Singapore.
Allow us to dream for a second, what about a future game where tanks, warplanes and warships all come together to make one, immense battle for the ages? Is a free-to-play version of this even possible, or would that be a step too far?
"This is actually a tricky question," Mardot sits up in his seat, careful not to promise too much. "When we talk about ships, planes and tanks, you are talking about different proportions. A tank can fire 1km, a battleship 20km. Planes can do damage to tanks, but what can a tank really do to a plane?
"All these questions are what we have to figure out and answer. For the moment there are no such plans to put the three games together. But we do have plans so that players across the three games can interact with each other. For the moment it's just an idea, from a development point of view it's very challenging."
Mardot really didn't want to give away too much when he was pushed for more, but it's clear there are plans beyond what we know today. A game that incorporates all the elements from Wargaming's titles on the same battlefield might be asking for a bit too much, but if the company continues to grow at the rate that it is then anything is possible.
If expanding onto different platforms and creating different games wasn't enough, Wargaming is also showing a keen interest in eSports. Many people are still unsure of videogaming as a spectator sport, but the likes of League of Legends and Dota 2 are proving massively popular in front of real-life audiences, and Twitch has allowed big tournaments to be streamed straight to people's monitors.
eSports is going through tremendous growth right now, and Wargaming wants World of Tanks to be right there alongside it as one of the premier games that players compete in. There's even a Wargaming.net League, a global competition featuring the best teams from all around the world. There are six different regions and all the teams are battling it out to compete in the Grand Finals and take home a $2.5million USD cash prize. That's some incentive.
Whether Wargaming will continue its meteoric rise as one of the biggest companies in the industry remains to be seen, but one thing is for sure, the massive amount of success can largely be attributed to the free-to-play business model. Many are critical of it due to a handful of developers and publishers milking their players for all they're worth, but would World of Tanks have worked as a standalone purchase where you get everything included? It's unlikely.
"For me, the free-to-play model really depends on the quality of the product. With free-to-play and microtransaction mechanics, every player is trying to adapt, but everyone is trying to play their own way. The number of people playing at the moment shows we're doing it well."
'Doing it well', that might just be the understatement of the year.